Spend the Summer doing what you love by taking part in one of our renowned Summer Schools! From filmmaking to performing in your own production, making lifelong friends and most importantly having fun, our YAC Summer Schools are the most dramatic way to spend your Summer.
Week 1
Monday 31st July – Friday 4th August 
Junior Stage (Ages 9- 12) and Senior Screen (Ages 12-18)
Week 2
Monday 21st – Friday 25th August 
Junior Screen (Ages 9-12) and Senior Stage (Ages 12-18)
Prices
£225 per child PER WEEK
MULTIPLE WEEK/MULTIPLE CHILD DISCOUNT
£200 a week per child (MUST be booked at the same time)
Please note – the first £50 of all payments is NON-REFUNDABLE in the event of member cancellation
Matilda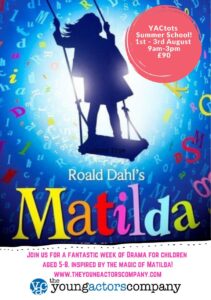 Join us for a fantastic three days of drama inspired by the magic of Matilda! These fun filled three days of acting, singing, movement and prop making is sure to be a hit with your young actors.
The YACtots Summer School is set to be the most magical days of summer. This exciting introduction to drama will build your child's confidence and performance skills and give them the opportunity to make like minded friends whilst doing what they love! We promise to inspire your 'Little Miracles'.
At the end of the three days there will be a presentation where our youngest actors will share with you all they have learnt on our lovely studio theatre stage.
To reserve your young actors' place, simply follow the link below.
Dates: 1st – 3rd August
£90